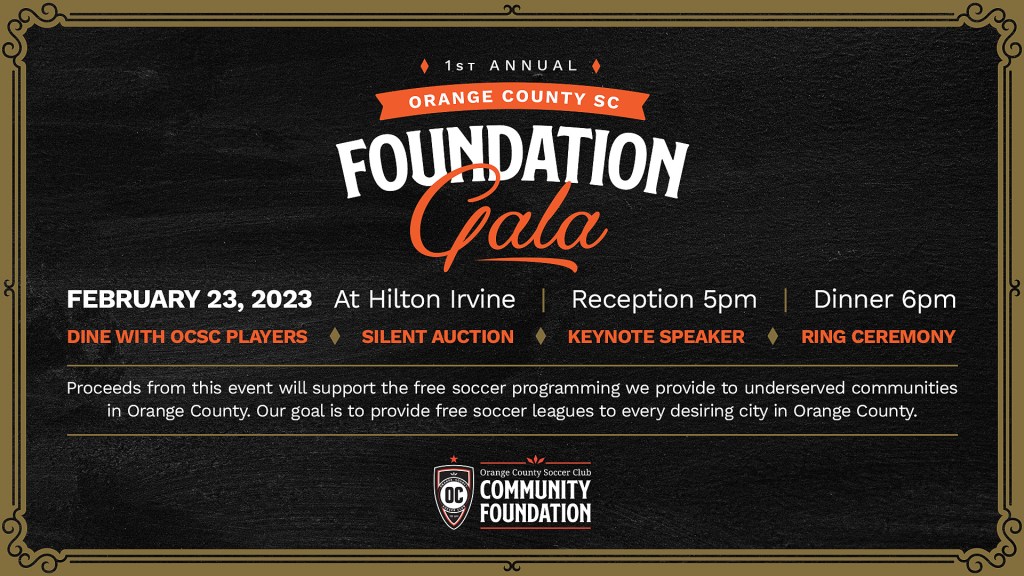 The OCSC Community Foundation (OCSCCF), the charitable arm of Orange County Soccer Club, is hosting its inaugural gala on Thursday, February 23rd at the Hilton Irvine. Table purchases, individual seat purchases and donations will help fund its soccer-for-all programs, which provide free after-school soccer programming to youth in underserved communities across Orange County. Executive Director Lisa Keston is thrilled to invite the community to this special event to help expand the organization's programs to as many schools and children in Orange County as possible.
The evening begins at 5 p.m. with an arrival reception including a hosted bar, followed by a Sportsman's Style dinner with OCSC's professional soccer players at 6 p.m. During the dinner, attendees will be able to participate in a special silent and live auction featuring unique items and experiences. The gala will also feature the 2021 USL Championship ring presentation and a special guest speaker.
"Providing access to no-cost soccer programs for Orange County students has been a priority for our foundation," says Executive Director, Lisa Keston. "Our after-school soccer league with the Santa Ana Unified School District has already touched the lives of hundreds of boys and girls in our community. With the help of the generosity of our fans and the OC community, we hope to expand to more schools and school districts in 2023 and beyond."
The mission of the OCSC Community Foundation is to use soccer as a vehicle to promote health and wellness, develop youth leadership, advance social change, and create a positive community impact in the OC.
Tables for the OCSCCF gala start at $2000, which includes tickets for nine people to dine with a current OCSC player. The $3000 Championship table includes tickets for nine people to dine with a member of the 2021 Championship winning team and present them with their 2021 championship ring.
Individual tickets are on sale now for $225.
For more information or to purchase a table or ticket visit https://auctria.events/OCSCFgala. Payments by check are also accepted. Checks may be made payable to: Orange County Soccer Club Foundation. Please note "Foundation Gala 2023" on memo line and send to the following address:
Orange County Soccer Club Foundation
Attn: Lisa Keston
20 Fairbanks, Suite 181
Irvine CA, 92618
Tickets will be available until February 21, 2023.
Any other questions, please contact Lisa Keston at [email protected]