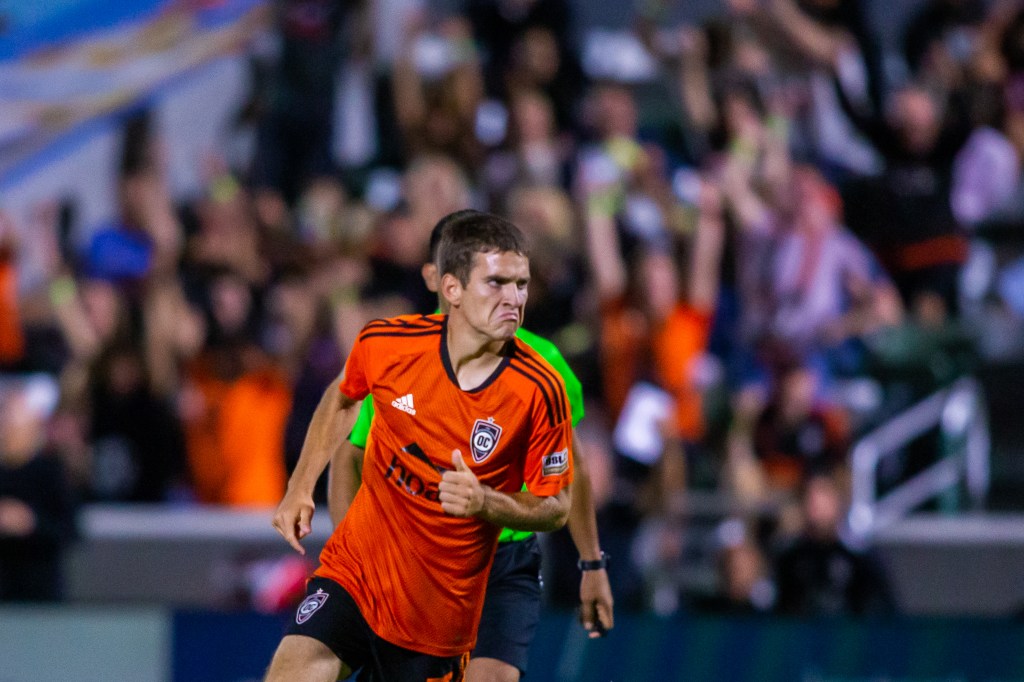 After recording six goals and two assists in five matches in July, Orange County SC forward Milan Iloski has put himself among club and league greats with an incredible run of form. He was named a nominee for the USL Championship Player of the Month making it the second time that the current Golden Boot race leader has been nominated during the 2022 season.
To put Iloski's performance this past month into perspective, the 23-year-old had a direct involvement in eight of the nine goals that OCSC scored over the five matches. The previous club record was seven, held by Haitian forward and 2021 USL Championship Finals MVP Ronaldo Damus in June 2021 (six goals, one assist).
Iloski's six goals in July were a product of three braces. This mark also sets a new club record for multi-goal games in a single month, breaking Jamaican forward Michael Seaton's previous two occurrences in August 2018.
His best match of the month was OCSC's 5-2 demolition of LA Galaxy II, or Los Dos, in the 405 Derby on July 23. He became the first player in club history to record two goals and two assists in a single match.
This month has been a microcosm of Iloski's outstanding season thus far. His 16 goals now leads the Golden Boot race. It is not just the amount of goals he's scored, it is the way he has done it. Seven of his goals have come from outside the box and none from penalty kicks or other dead ball situations, unlike some of the players behind him in the Golden Boot race. Iloski was also named to the USL Championship Team of the Week three times in the month of July, including Konami eFootball Player of the Week honors in Week 20.
With 11 matches remaining and a goal scoring rate of 0.79 goals per 90 minutes, Iloski is on pace to break more records before this season is all said and done. The single-season record of 20 goals set by Danish forward and OCSC legend Thomas Enevoldsen is well within his reach. In addition, the USL Championship single-season record of 25 goals set by Louisville City forward Cameron Lancaster in 2018 which was equaled three seasons later by Colorado Springs Switchbacks FC forward Hadji Barry.
The picture is clear as an Orange County summer day and the numbers never lie with them pointing in one direction that Iloski has etched himself into OCSC history and record books.
MILAN'S JULY BY THE NUMBERS:
Goal involvement percentage: 88.9% (8/9)
Goal conversion percentage: 50% (6 goals /12 shots on target)
Highest FotMob rating: 9.5 (vs. Los Dos)
Average FotMob rating for July: 8.1
Team of the Week nominations: 3
Club records broken: 2
Milan Iloski: 1 of 1