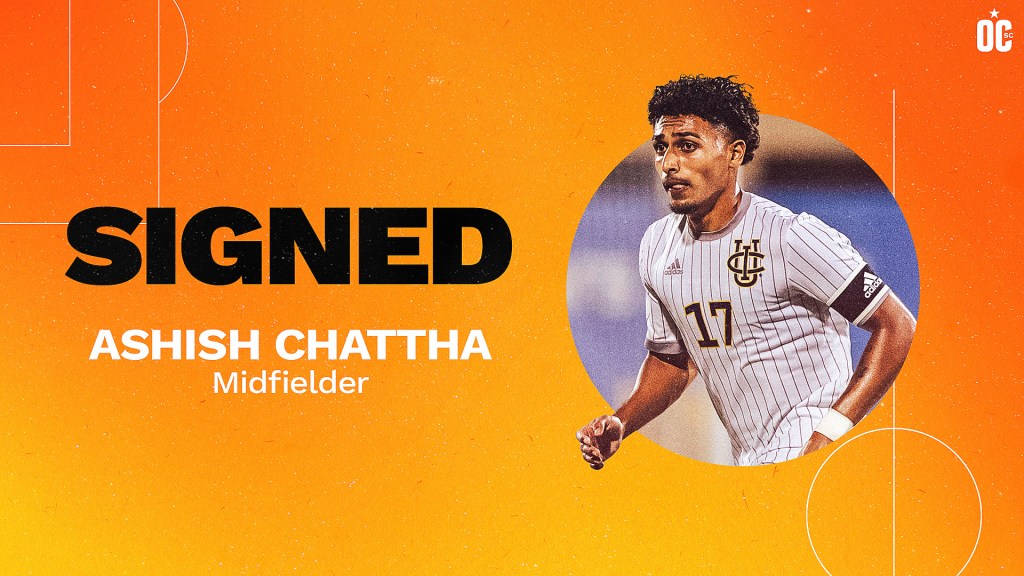 Orange County SC announced today the signing of midfielder Ashish Chattha for the upcoming USL Championship season. Chattha now joins OCSC permanently after a standout trial period, including his first professional appearance in the Black and Orange's international friendly with Hamburger SV.
The 23-year-old native of Fremont, CA will begin his professional career in Irvine, where his collegiate career ended. Chattha transferred to UCI in 2021, where he played his junior and senior seasons at Anteater Stadium. Chattha appeared in 38 matches for the Anteaters, including 35 as a starter. He is a two time All-Big West Conference First Team player and amassed eight goals and three assists in his time at UCI.
"I chose OCSC because the club and players have high standards and it is an elite environment," Chattha said. "I am happy to be a part of a championship winning team. I hope to have a great rookie season and contribute as much I can for the team, the fans and help the team win another championship. I'm excited for this upcoming season."
Prior to his transfer to UCI, Chattha began his collegiate career closer to home at the University of San Francisco. He appeared in 30 matches for the Dons, 28 of them as a starter. He scored three goals and provided two assists in his two years at USF.
*We are excited to add Ashish, a top quality local midfielder to our roster," OCSC General Manager and President of Soccer Operations Oliver Wyss said. "Over the years, we have signed multiple UC Irvine alumni to their first professional contract who have had an impact on the field for us and we are expecting Ashish to continue the trend."
Chattha has also had an impressive youth career, including training with the United States Youth National Team. During this time with the USYNT, Chattha was named one of the academy's top youth futsal players in 2015. He was named to an eight man shortlist that also included former OCSC midfielder Eric Calvillo.
"Ashish impressed all the technical staff with his performance against Hamburger SV," OCSC Sporting Director Peter Nugent said. "He showed great composure and courage on the ball. We believe he will bring a different dimension to our midfield and are expecting him to play a big role this season."
As we welcome this UCI Anteater to Championship Soccer Stadium for the 2023 season, OCSC is looking for more Anteaters to join him! For the upcoming season, OCSC will be offering a special student ticket discount for all UCI Anteaters and their Big West Conference and OC neighbors, the Cal State Fullerton Titans. For special student ticketing, visit /fevo.me/OCSCstudentsection. These will sell out, so be sure to grab yours today!
All other OCSC fans are welcome to visit orangecountysoccer.com/tickets for ticket packages and single game tickets.
Per club and league policy, terms of the transaction will not be disclosed.
Transaction Details:
Orange County SC sign midfielder Ashish Chattha, January 2023
Name: Ashish Chattha
Position: Midfielder
Height: 5' 10"
Weight: 160
Born: January 6, 2000
Hometown: Fremont, CA
Social Media: @ashish.c17 on IG, @Legend_ashish on Twitter