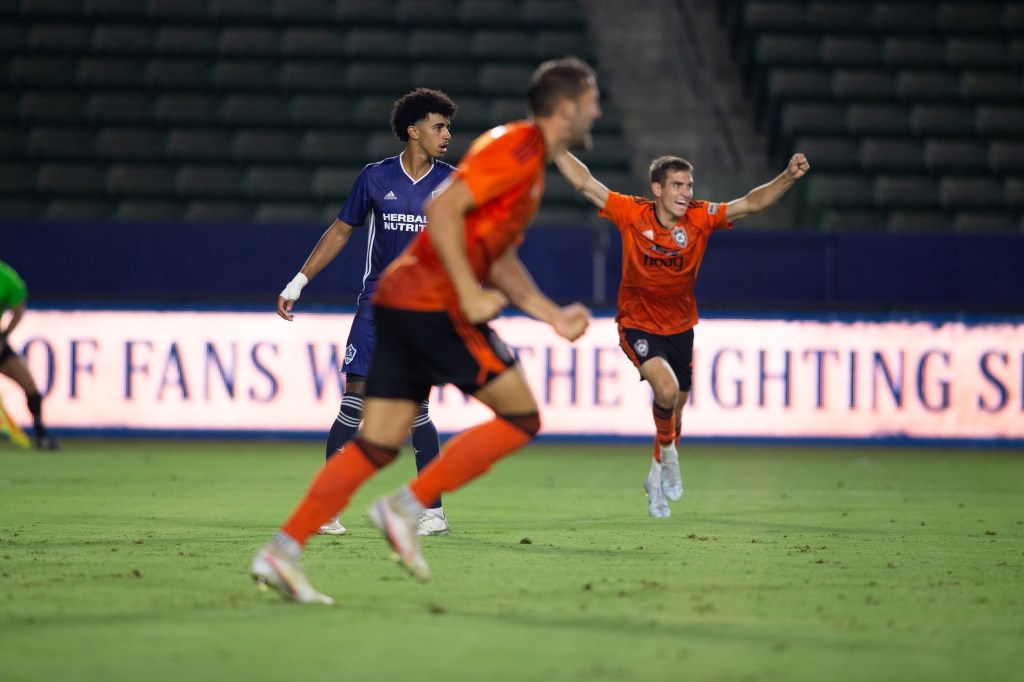 Orange County SC marked their final appearance at Dignity Health Sports Park in Carson, CA with a 5-2 thrashing of LA Galaxy II in the 405 Derby on Saturday, July 23.
OCSC found themselves on the wrong side of the derby early, as Preston Judd put the hosts ahead with a header in the 3rd minute of play.
The Orange and Black looked determined to bring the score back level, and worked themselves back into the game with periods of sustained pressure.
The deadly duo of forward Milan Iloski and forward Erick "Cubo" Torres saw to it that OCSC capitalized on their chances. Iloski played the ball into Cubo and the former Chivas USA striker finished calmly with the left foot to bring the sides level in the 31st minute.
As the first half drew to a close, tensions began to rise like the 405 Freeway at rush hour. OCSC was shown four yellow cards in the span of eight minutes, but it did not cost them as the two sides entered the dressing room level at the break.
In the second half, Richard Chaplow's men got off to a blistering start. Iloski added his 13th goal of the season right off the restart with a rocket off his left foot from well outside the box that gave OCSC a 2-1 lead in the 46th minute.
Defender Albi Skendi joined in on the fun in the 48th minute, as Los Dos goalkeeper Eric Lopez could not control a header and the Albanian center back was there to clean up the mess in front and OCSC extended their lead to 3-1.
After already notching a goal and an assist, Iloski was not done. Defender Alex Villanueva found Iloski high up the left wing, and he dribbled into the 18-yard box, put Los Dos defender Dante Campbell on his wallet and beat Lopez near post to put OCSC ahead 4-1 in the 72nd minute.
Sean "Ugo" Okoli made his 100th USL appearance after coming on as a substitute, and marked the occasion with a goal in the 79th minute. Ugo made a run through the middle of the pitch, Iloski played him through and Ugo chipped Lopez to further OCSC's advantage to 5-1.
LA Galaxy II added a consolation goal through Jonny Perez in the 85th minute.
The win snaps a four game winless streak and provides some momentum for the team heading into another derby next Saturday.
OCSC returns to Championship Soccer Stadium next Saturday, July 30, playing host to the San Diego Loyal SC. Join us for the "Battle of the Brews" featuring $12 beer flights, $1 tacos and $1 beers. Tickets can be purchased here.
MILESTONES AND FACTS:
This was the final 405 Derby contested at Dignity Health Sports Park, before LA Galaxy II moves to MLS Pro Next in 2023.
Sean "Ugo" Okoli made his 100th USL appearance.
With two goals tonight, Milan Iloski brings himself within one goal of the league lead.
Brian Iloski made his first Orange County appearance of the season, coming on for his brother Milan in the 81st minute.
| | | | |
| --- | --- | --- | --- |
| TEAM | FIRST HALF | SECOND HALF | FULL TIME |
| OCSC | 1 | 4 | 5 |
| LAG2 | 1 | 1 | 2 |
SCORING SUMMARY:
3' Preston Judd (LAG2)
32' Cubo Torres (OCSC)
46' Milan Iloski (OCSC)
48' Albi Skendi (OCSC)
72' Milan Iloski (OCSC)
79' Ugo Okoli (OCSC)
85' Jonny Perez (LAG2)
DISCIPLINE SUMMARY:
ORANGE COUNTY SC
36' Cubo Torres
37' Tony Rocha
41' Kevin Partida
44' Ian Hoffmann
LA GALAXY II
13' Adrian Gonzalez
ORANGE COUNTY SC LINEUP:
Colin Shutler (GK); Ian Hoffmann, Albi Skendi, Michael Orozco (C), Alex Villanueva; Dillon Powers (Brent Richards 76'), Daniel A. Pedersen, Tony Rocha (Seth Casiple 46'), Kevin Partida (Tommy McCabe 81'); Milan Iloski (Brian Iloski 81'), Cubo Torres (Ugo Okoli 71')
Unused subs: Patrick Rakovsky (GK), Ivan Gutierrez
Head Coach: Richard Chaplow
Possession: 39% | Shots: 16 | Shots On Goal: 8 | Corners: 3 | Fouls: 15 | Offsides: 2 |
LA GALAXY II LINEUP:
Eric Lopez (GK); Josh Drack, Jalen Neal, Carlos Harvey (Dante Campbell 60'), Owen Cambe (C); Cam Dunbar, Taylor Davila (Adam Saldana 60'), Adrian Gonzalez (Callum Johnson 60'), Jonny Perez; Remi Cabral (Duhaney Williams 60'), Preston Judd (Axel Picazo 84')
Unused subs: Rich Sanchez (GK), Victor Valdez
Head Coach: Yoann Damet
Possession: 61% | Shots: 13 | Shots On Goal: 3 | Corners: 5 | Fouls: 11 | Offsides: 2 |
Orange County SC @ LA Galaxy II
2022 USL Championship | Matchday 21
Date: July 23, 2022
Venue: Dignity Health Sports Park (Carson, CA)
Weather: They had us in the first half, I ain't going to lie.