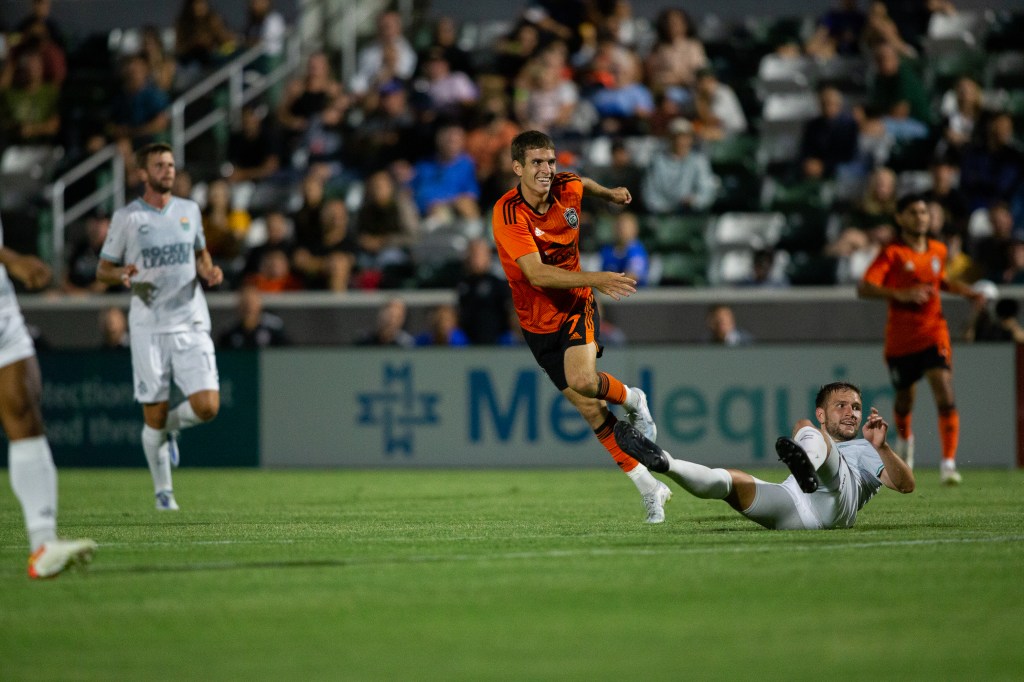 Orange County SC lost, 3-2, to San Diego Loyal SC on Saturday, July 30 at Championship Soccer Stadium in Irvine. Forward Milan Iloski scored both goals for OCSC continuing his scoring form.
Iloski, the reigning USL Championship Player of the Week, nearly got the party started off the opening kick. Midfielder Seth Casiple played him clear in on goal just after 40 seconds, but Iloski's touch was a bit heavy and nothing came of the chance.
Iloski got his chance. He controlled a bouncing ball while fending off a defender. He placed a shot into the bottom left corner for his 14th goal of the season, and OCSC had a 1-0 lead.
Forward Sean "Ugo" Okoli provided another chance for OCSC in the 34th minute. He flicked over SD defender Kyle Adams's head and into the box, where his left-footed effort was blocked by goalkeeper Keko Vegas.
SD drew level in the 39th minute off a corner kick from midfielder Charlie Adams that was headed home by defender Grant Stoneman. The teams headed into the break tied.
Iloski found the back of the net again to earn his second consecutive brace. He scored his second goal in the 67' on a highlight-reel shot from outside the box and into the upper-90 of the net. Iloski received a pass from Casiple that created enough space for the shot.
The lead lasted just minutes as Thomas Amang drew San Diego level. Evan Conway sealed the deal off a defensive miscue to put the visitors in front, 3-2.
OCSC had chances right in front of goal in stoppage time, but none of them resulted in the ball crossing the goal line. The loss drops OCSC to last place in the Western Conference.
OCSC will continue their homestand next Saturday, August 6 as they face the Colorado Springs Switchbacks FC during the fourth Gnarly's Carnival. Tickets can be purchased here.
MILESTONES AND FACTS:
Midfielder Brian Iloski made his 2022 home debut coming in as a second-half substitute.
Tonight's attendance of 5,177 is the largest ever regular season crowd in club history
| | | | |
| --- | --- | --- | --- |
| TEAM | FIRST HALF | SECOND HALF | FULL TIME |
| SDL | 1 | 2 | 3 |
| OCSC | 1 | 1 | 2 |
SCORING SUMMARY:
10' Milan Iloski (OCSC)
39' Grant Stoneman (SDL)
67' Milan Iloski (OCSC)
69' Thomas Among (SDL)
85' Evan Conway (SDL)
DISCIPLINE SUMMARY:
ORANGE COUNTY SC
27' Kevin Partida
30' Ian Hoffmann
49' Michael Orozco
56' Alex Villanueva
59' Seth Casiple
90+5' Albi Skendi
90+7' Milan Iloski
SAN DIEGO LOYAL SC
87' Jack Metcalf
ORANGE COUNTY SC LINEUP:
Colin Shutler (GK); Ian Hoffmann (Ivan Gutierrez 84'), Albi Skendi, Michael Orozco (C), Alex Villanueva (Brent Richards 76'); Dillon Powers (Tommy McCabe 84'), Daniel A. Pedersen, Seth Casiple (Brian Iloski 76'), Kevin Partida (Tony Rocha 60'); Ugo Okoli, Milan Iloski
Unused subs: Patrick Rakovsky (GK), Ahmed Longmire
Head Coach: Richard Chaplow
Possession: 45% | Shots: 13 | Shots On Goal: 7 | Corners: 5 | Fouls: 16 | Offsides: 1 |
SAN DIEGO LOYAL SC LINEUP:
Jorge Ojeda-Ruiz (GK); Elijah Martin, Grant Stoneman (Camden Riley 74'), Kyle Adams, Nick Moon; Collin Martin, Charlie Adams (C) (Jack Metcalf 74'), Alejandro Guido, Jack Blake (Evan Conway 63'), Tumi Moshobane (Andrew Carleton 63'); Thomas Amang
Unused subs: Duran Feree (GK), Nikko Boxall, Morgan Hackworth
Head Coach: Landon Donovan
Possession: 55% | Shots: 13 | Shots On Goal: 4 | Corners: 6 | Fouls: 14 | Offsides: 2 |
Orange County SC vs. San Diego Loyal SC
2022 USL Championship | Matchday 22
Date: July 30, 2022
Venue: Championship Soccer Stadium (Irvine, CA)
Weather: On to August.