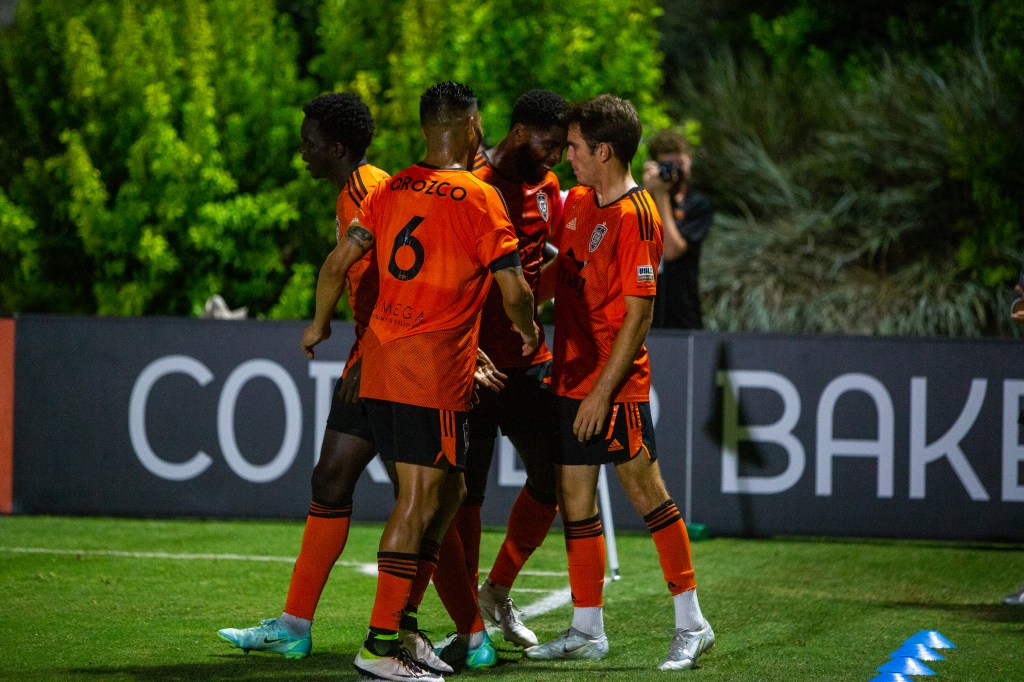 Orange County SC earned their third shutout of the season and forward Milan Iloski tied the single-season goal scoring record in a 1-0 victory over the Los Angeles Galaxy reserves on Saturday, September 10 at our home, Championship Soccer Stadium in Irvine, CA.
OCSC goalkeeper Patrick Rakovsky got some help from midfielder Daniel A. Pedersen in the 12th minute. Rakovsky got in front of a Michael Salazar shot, but could not stop it completely. Alert to the danger, Pedersen then kept the ball from crossing the goal line and kept the visitors off the board.
Rakovsky made his second save of the night, with a point blank save on Los Angeles forward Preston Judd in the 21st minute.
Iloski had the best chance for Orange County in the first half in the 25th minute. After some strong link up play from midfielder Kyle Scott and forward Erick "Cubo" Torres, Scott played a ball over the top for Iloski who struck it on the volley with his left but saw it saved by Los Angeles goalkeeper Richard Sanchez.
When the teams returned from half time, the 405 Derby turned into one way traffic, as OCSC looked dangerous and attacked early and often.
Scott had a shot on goal turned away by Sanchez in the 55th minute. Just two minutes later, Sanchez made another stop, this time on defender Alex Villanueva, after a nice give and go with Iloski.
OCSC capitalized on their sustained pressure in the 68th minute. Second half substitute Sean "Ugo" Okoli received a pass from Villanueva, and after out-muscling the Los Angeles defender, unleashed a shot from 25 yards that was saved by Sanchez, and the rebound was volleyed home by Iloski for his league-leading and club record tying 20th goal of the season, and OCSC led 1-0.
After taking the lead through Iloski, it was Rakovsky that kept them there in the 72nd minute. Los Angeles midfielder Taylor Davila played Salazar in behind the Orange County defense, but Rakovsky parried his shot over the crossbar for his third save of the night.
After the Los Angeles reserves received two red cards in two minutes, a second yellow to forward Preston Judd in the 74th minute and a straight red to midfielder Carlos Harvey in the 75th minute, OCSC was able to comfortably see out the remainder of the match.
Orange County SC will return to action on Sunday, September 18 when they travel to the State Capital to take on Sacramento Republic F.C. Their final home game of the season will take place on October 1, when they host San Diego Loyal SC. Tickets can be purchased here.
MILESTONES AND FACTS:
Seth Casiple has surpassed the 10,000 minutes played mark in the USL Championship, with an appearance tonight as a sub in the 63rd minute.
With a goal tonight, Milan Iloski extends his Golden Boot race lead and ties the club record for goals in a single season, with 20. (Thomas Enevoldsen, 2018)
Orange County SC announced a crowd of 5,500 on the night. A club record for attendance, both regular season and playoffs, at Championship Soccer Stadium.
| | | | |
| --- | --- | --- | --- |
| TEAM | FIRST HALF | SECOND HALF | FULL TIME |
| LA2 | 0 | 0 | 0 |
| OCSC | 0 | 1 | 0 |
SCORING SUMMARY:
68' Milan Iloski (OCSC)
DISCIPLINE SUMMARY:
ORANGE COUNTY SC
16' Kyle Scott
24' Dillon Powers
26' Albi Skendi
41' Ian Hoffmann
70' Milan Iloski
LA GALAXY RESERVES
39' Joshua Drack
50' Preston Judd
74' Preston Judd (SECOND YELLOW – RED)
75' Carlos Harvey (RED)
79' Adrian Gonzales
89' Axel Essengue
ORANGE COUNTY SC LINEUP:
Patrick Rakovsky (GK); Ian Hoffmann, Michael Orozco (C), Albi Skendi, Alex Villanueva; Dillon Powers, Daniel A. Pedersen (Seth Casiple 63'), Kevin Partida (Brian Iloski 84'), Kyle Scott (Korede Osundina 67'); Cubo Torres (Ugo Okoli 46'), Milan Iloski
Unused subs: Colin Shutler (GK), Tommy McCabe, Nico Ruiz
Head Coach: Richard Chaplow
Possession: 41% | Shots: 14 | Shots On Goal: 8 | Corners: 4 | Fouls: 20 | Offsides: 2 |
LA GALAXY RESERVES LINEUP:
Richard Sanchez (GK); Joshua Drack (Axel Essengue 83'), Liam Doyle, Carlos Harvey, Owen Lambe (Dante Campbell 83'); Adam Saldana, Adrian Gonzales (Axel Picazo 83'), Cameron Dunbar (Tsubasa Endoh 83'), Remi Cabral (Taylor Davila 65'), Michael Salazar (C); Preston Judd
Unused subs: Eric Lopez (GK); Chandler Vaughn
Head Coach: Marcelo Sarvas
Possession: 59% | Shots: 8 | Shots On Goal: 3 | Corners: 3 | Fouls: 18 | Offsides: 2 |
Orange County SC vs. Los Angeles Galaxy reserves
2022 USL Championship | Matchday 29
Date: September 10, 2022
Venue: OUR HOME. Championship Soccer Stadium (Irvine, CA)
Weather: Sweep, sweep victory.