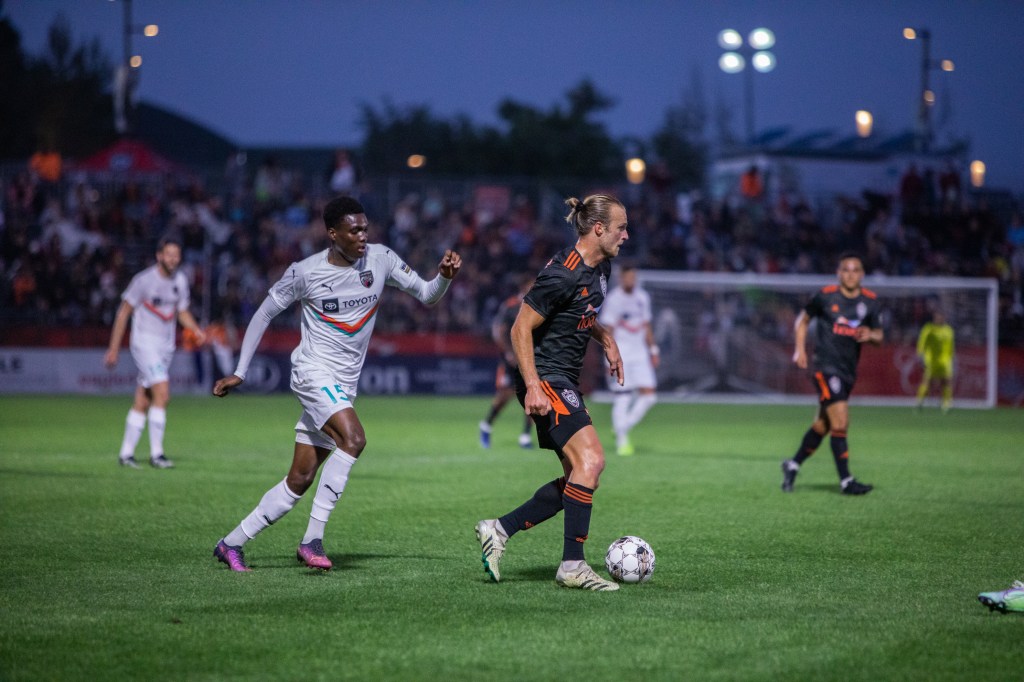 Kickoff: Saturday, October 15 (5:30 PM PDT)
Where: Toyota Field (San Antonio, TX)
How to Watch: ESPN+
Orange County SC will play their final USL Championship match of the 2022 season as they head to central Texas for a matchup with San Antonio FC. Richard Chaplow's men will take the field for the final time at Toyota Field in San Antonio, TX on Saturday, October 15 at 5:30 PM PDT.
STERLING SILVER DEFENSE
San Antonio FC is locked into the number one overall seed in the Western Conference for the 2022 USL Championship season. They boast the league's best defense and are attempting to set a new league record for wins, points, and shutouts in a single season.
2022 Regular Season Record: 24-5-4
Goals Scored: 52 | Goals Conceded: 27 | Clean Sheets: 17
Players to Watch
GK Jordan Farr
F Samuel Adeniran
SPOILER ALERT?
Orange County SC will be looking to play the part of spoiler in this last regular season game of the 2022 USL Championship season. With both sides' postseason fate sealed, OCSC will be looking to keep SAFC's name out of the history books. They'll turn to their youth, like forwards Bryce Jamison and Korede Osundina, to get the job done.
All-time record
Orange County SC is 3-3-3 all-time against San Antonio.
Previous Matchup: 2022 USL Championship
Orange County SC 0 – 1 San Antonio FC
Summary: Elliott Collier 60' (SAFC)
JAMISON OFF THE MARK!
Forward Bryce Jamison tallied his first professional goal in Orange County SC's 2-1 loss to El Paso last Saturday, October 7. Jamison signed with Orange County SC from the Barcelona Residency Academy on September 23 and made his first appearance for OCSC in the 1-1 draw with Pittsburgh Riverhounds SC. He scored in the 83rd minute from the top of the box off an assist from midfielder Brian Iloski.
DOWN TO THE WIRE…
Current Golden Boot race leader, OCSC forward Milan Iloski has been ruled out of Saturday's match with a lower-body injury, so he will have to hope that his 22 goals will be enough to take home the 2022 USL Championship Golden Boot. His challengers? Memphis forward Phillip Goodrum, who has 20 goals entering Saturday's match, and Oakland forward Ottar Magnus Karlsson with 19.
MORE SOCCER AT THE CHAMP!
Orange County SC has announced an international friendly match with historic German side Hamburger SV, currently playing in 2. Bundesliga! The match will take place on Tuesday, November 15 at 7:00 PM PST at Championship Soccer Stadium and will feature a German-style beer fest! Tickets can be purchased here.
SECURE YOUR 2023 SEASON SEASON TICKETS NOW!
Professional soccer is returning to Championship Soccer Stadium at the Great Park in Irvine for the 2023 USL Championship season! The best way to ensure your seat for all the action, is to become a season ticket holder! Enjoy all the same great benefits of being OCSC ticket holder, with an official OCSC badge and lanyard, a car magnet AND tickets to an away game of your choice. Place your deposit today at https://www.orangecountysoccer.com/season-tickets/.
OCSC X RANGERS THANKSGIVING CAMP!
Join us at the Great Park in Irvine for our annual OCSC x Rangers Thanksgiving Camp! Campers will enjoy instruction from youth development coaches at our partner club, Rangers FC in Scotland. If you register your child up in the next week, you will also receive two free tickets to the OCSC-Hamburg friendly on November 15. You can sign up here.