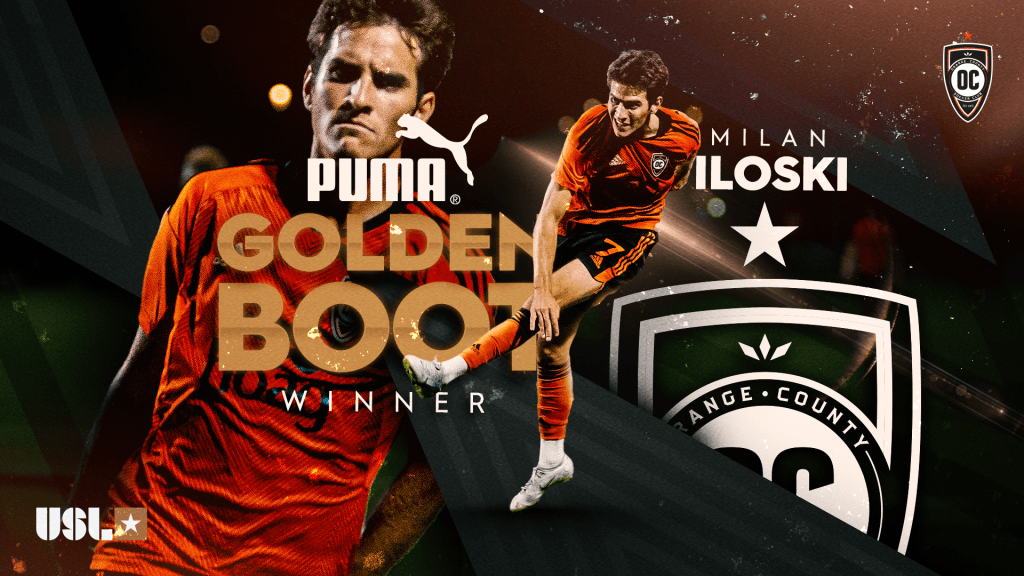 Orange County SC forward Milan Iloski has officially been named the USL Championship Golden Boot winner after scoring 22 goals in the 2022 campaign. His 22 goals set a new single season club record and made him the first OCSC player to win the award.
"It is an incredible honor to have won the USL Golden Boot award," forward Milan Iloski said. "I want to thank my teammates, coaches and the fans for always pushing me and helping me achieve this amazing award. I couldn't have done it without all of you, and I'm forever grateful for the support I have received since arriving at OCSC."
It's the latest in a season full of accolades for Iloski. He took control of the Golden Boot race in July, when he was also named the USL Championship Player of the Month presented by Konami eFootball for the month of July. He recorded six goals and two assists in July, putting him in the lead with 16 goals at the end of the month and has led the race ever since.
In addition to the club records he set this year, Iloski also etched his name into the USL Championship record books as well. He became the youngest player in USL Championship history to surpass the 20 goal mark in a single season.
"Milan had a defining career season and truly deserves this special award!" President of Soccer Operations Oliver Wyss said. "Most of Milan's 22 goals this season were of the highest quality and he set a new standard for clinical finishing that will be remembered for a very long time!"
Any Golden Boot winning season is impressive, but the way Iloski has gotten to this point is what sets his season apart from others. Iloski has scored all of his 22 goals from open play. No penalty kicks. No free kicks.
So how did Iloski arrive at the Golden Boot with no PKs and no goals from dead ball situations? Iloski was a clinical finisher this season. 55% of his 88 shots this year were on target. He had a goal conversion rate of 25%, compared to a league average of 8.4%, and scored at a rate of 118.2 minutes per goal. He also tied the single-season league record for goals scored outside the penalty area, with eight (Emmanuel Ledesma, FC Cincinnati, 2018).
"We are delighted for Milan, it's a fantastic achievement for him to win the golden boot and even more so because he achieved this with only goals from open play!" head coach Richard Chaplow said. "We knew when he joined us that he had a wealth of talent and he has been able to unlock that due to his hard work and desire to improve both individually and for the team. We look forward to seeing what the future brings for Milan at Orange County as he continues to push on."
At the conclusion of the 2022 season, Iloski finishes the year breaking Thomas Enevoldsen's record for most goals in a single-season (20) and will return to Championship Soccer Stadium next season with Enevoldsen's goals in a career mark (24) well within his reach. Congratulations on a remarkable season, Milan Iloski!
2022 Season by the Numbers:
Goals: 22
Assists: 4
FotMob Rating: 7.53
Team of the Week Appearances: 6
Player of the Week: 2 (1x Player of the Month)
Records Broken: 6