USL Championship Golden Boot holder will stay at OCSC for the remainder of the season to bolster the club's playoff hopes, before completing a move to Denmark in January 2024.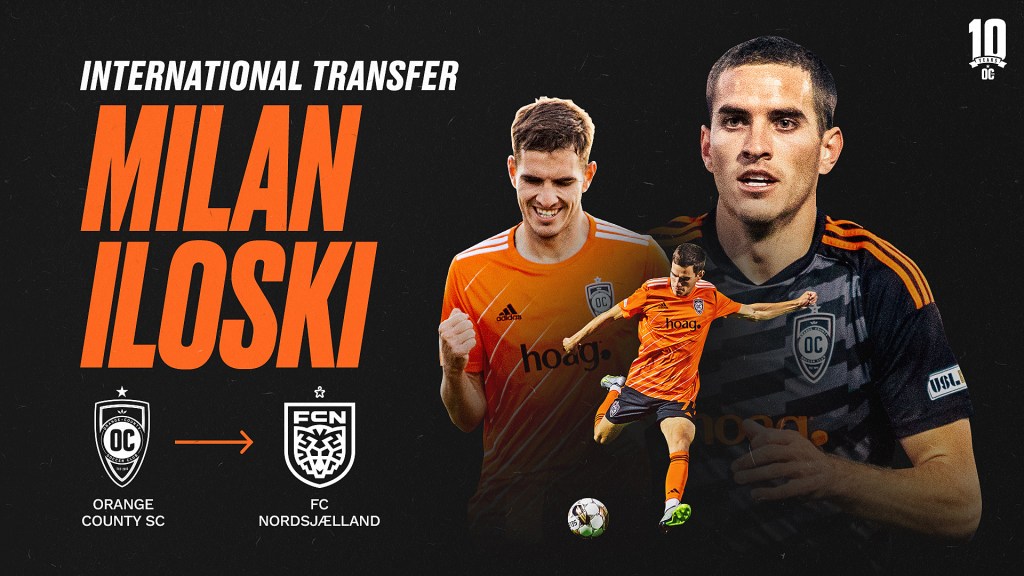 Orange County Soccer Club has agreed to a permanent transfer deal with Danish Superliga side FC Nordsjaelland for star forward Milan Iloski for the January 2024 transfer window.
Iloski, who earlier in the season signed a contract extension with OCSC, will complete the remainder of the USL Championship season and contribute to the club's strong push towards the club's second USL Championship title in 3 years.
The 24-year-old forward, born and raised in San Diego County, becomes the sixth player to transfer from the 2021 USL Championship champions to a major European team.
Iloski is the club's all-time leading goalscorer and has scored 38 goals and contributed 11 assists in 62 club appearances since signing for OCSC in February 2022. In his debut season for the club he scored 22 goals, earning the USL Championship Golden Boot award for the most goals of any player on the season.
The reigning league top scorer has notched 15 goals in all competitions in the 2023 season, firmly placing OCSC in the heart of the playoff hunt.
"Milan has arguably been the best pure forward in the USL Championship the last two seasons, and we are beyond delighted to have come to an agreement to transfer him to FC Nordsjaelland at the end of the season," OCSC General Manger and President of Soccer Operations Oliver Wyss said. "We have turned down multiple offers that did not meet our expectations for last year's Golden Boot winner during his very successful time here, and we are convinced his value will only continue to rise in Denmark.
"Milan is a fan favorite and difference maker who will give his all for our quest of winning a second USL Championship title in three years before he fulfills his dream of playing for a top European club next season!"
OCSC pioneered the model of creating opportunities for young players to move directly to Europe, breaking the mold of traditional college or MLS routes. In joining Europa League hopefuls Nordsjaelland, Iloski follows in the footsteps of Orange County SC players who have continued their professional development with a major European team. Nineteen-year-old forward Korede Osundina completed his transfer to Feyenoord last month, while teenage U.S. international Kobi Henry shattered the USL Championship transfer record in June 2022 with his move to French top-flight side Stade de Reims. OCSC has formed strategic partnerships with Scottish giants Glasgow Rangers and reigning Dutch champions Feyenoord as part of its dedication to its trailblazing Pro Player Pathway.
Alongside the Pathway to Pro creating a route to Europe for young players, the transfers of Ronaldo Damus to Sweden in 2022, and now Iloski to Nordsjaelland, shows OCSC is also establishing itself as a destination for elite attacking players looking to put themselves in the shop window.
"It's been a privilege to represent Orange County SC, and I am very glad that I chose to play here and become a better player and professional," said Iloski. "While leaving is difficult, I'm really excited to take on a new challenge in Denmark next year. I would like to take the opportunity to thank my teammates, coaches, fans and everyone involved at the club for their support over the last two seasons. However, I am fully focused on our playoff push and ultimately compete for the USL Championship title!"
Per club policy, terms of the deal and player contracts will not be released to the public.
Transaction Details:
Orange County SC transfers forward Milan Iloski to FC Nordsjaelland, January 2024
Position: Forward
Height: 5' 10"
Weight: 154 lbs
Born: July 29, 1999
Birthplace: Escondido, CA
Social Media: @milan_iloski_ on IG / @milaniloski123 on Twitter