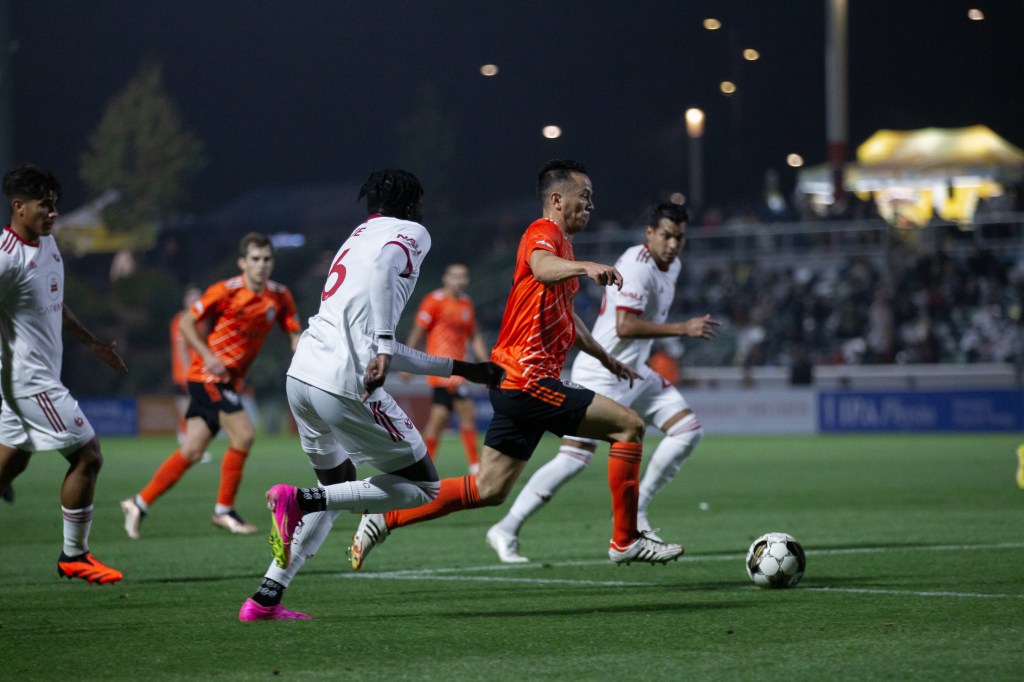 Orange County SC dropped a 1-0 decision to Phoenix Rising FC in a closely contested match on Saturday, May 20 at Championship Stadium in Irvine, CA.
The home team started out as the aggressor implementing a full press to start the game. This led to a chance in the second minute after a beautiful touch pass from forward Milan Iloski
to forward Marc "Sparky" McNulty. His right footed shot was saved by Phoenix goalkeeper Rocco Rios Novo.
Sparky found himself with another chance in the third minute, however, his right footed shot from outside the box went just a bit too high.
OCSC continued on the attacking front with forward Milan Iloski drawing a free kick in the sixth minute, forcing the second save of the match for Rios Novo after he tipped Iloski's shot over the bar.
The Rising had their first big opportunity of the night in the 28th minute as midfielder Edwin Munjoma fired a right footed shot off a pass from forward Danny Trejo from just outside the box that was saved by a leaping OCSC goalkeeper Colin Shutler, his second save of the night.
OCSC midfielder Bryce Jamison found himself on an attacking run right before halftime in the 42nd minute, and fired a pass to Sparky in the box, however, Sparky's left footed strike was saved by Novo and the sides went into the dressing rooms level at halftime.
In the 54th minute, Phoenix midfielder Josè Hernández lofted a pass to forward Danny Trejo on the right side of the box. Trejo found himself at a weird angle and his right footed shot was wide right of the goal.
Phoenix finally broke through in the 67th minute as midfielder Renzo Zembrano found forward Manuel Arteaga on the left side of the box. His left footed strike found the bottom right of the net, putting Phoenix ahead 1-0.
OCSC looked keen to grab the equalizer in the 76th minute as forward Milan Iloski found himself with another opportunity off a pass from his brother, midfielder Brian Iloski, and his right footed shot from just outside the box hit the goalpost, and was immediately cleared.
The Black and Orange had one last chance in the 93rd minute as midfielder Brian Iloski delivered in a set piece cross to midfielder Ben Norris, whose header missed just wide left. 
OCSC hits the road next week but will return home on Saturday, June 3 at 7pm vs. RGV FC Toros for Pride Celebration Night, presented by Massage Matters. Grab your tickets here.
MILESTONES AND FACTS:
Defender Brent Richards played 45 minutes today. With the appearance, Brent has played in 15,022 minutes in his USL Championship career, surpassing the 15,000 minute mark.
Orange County SC raised a total of $4,900 during their community night in part thanks to two saves from goalkeeper Colin Shutler.
| | | | |
| --- | --- | --- | --- |
| TEAM | FIRST HALF | SECOND HALF | FULL TIME |
| PHX | 0 | 1 | 1 |
| OCSC | 0 | 0 | 0 |
SCORING SUMMARY:
67' Manuel Arteaga (PHX)
DISCIPLINE SUMMARY:
ORANGE COUNTY SC
50' Ryan Doghman
81' Ben Norris
90+3' Markus Nakkim
PHOENIX RISING FC
5' Alejandro Fuenmayor
ORANGE COUNTY SC LINEUP:
Colin Shutler (GK); Ryan Doghman, Owen Lambe (Brent Richards 45'), Markus Nakkim (C); Seth Casiple, Bryce Jamison (Alex Villanueva 65'), Daniel Pederson (Ashton Miles 59'), Kyle Scott (Ben Norris 74'), Dillon Powers; Milan Iloski, Sparky McNulty (Brian Iloski 45')
Unused subs: Cody Cropper (GK), Nico Ruiz
Head Coach: Morten Karlsen
Possession: 43% | Shots: 15 | Shots On Goal: 4 | Corners: 4 | Fouls: 11 | Offsides: 0 |
PHOENIX RISING FC LINEUP:
Rocco Rios Novo (GK); Kevon Lambert, Alejandro Fuenmayor, Daniel Krutzen; Renzo Zambrano, Carlos Harvey, Josè Hernández (Federico Varela 69'), Darnell King (C) (Baboucarr Njie 69'), Edwin Munjoma; Daniel Trejo, Manuel Arteaga
Unused subs: Patrick Rakovsky (GK), Carlos Anguiano, Jackson Conway, Liam Mullins, Joel Torbic
Head Coach: Juan Guerra
Possession: 57% | Shots: 8 | Shots On Goal: 3 | Corners: 5 | Fouls: 11 | Offsides: 3 |
Orange County SC vs. Phoenix Rising FC
2023 USL Championship | Matchday 12
Date: May 20, 2023
Venue: Championship Stadium (Irvine, CA)
Weather: No rain but at least it's not 100 degrees in Irvine