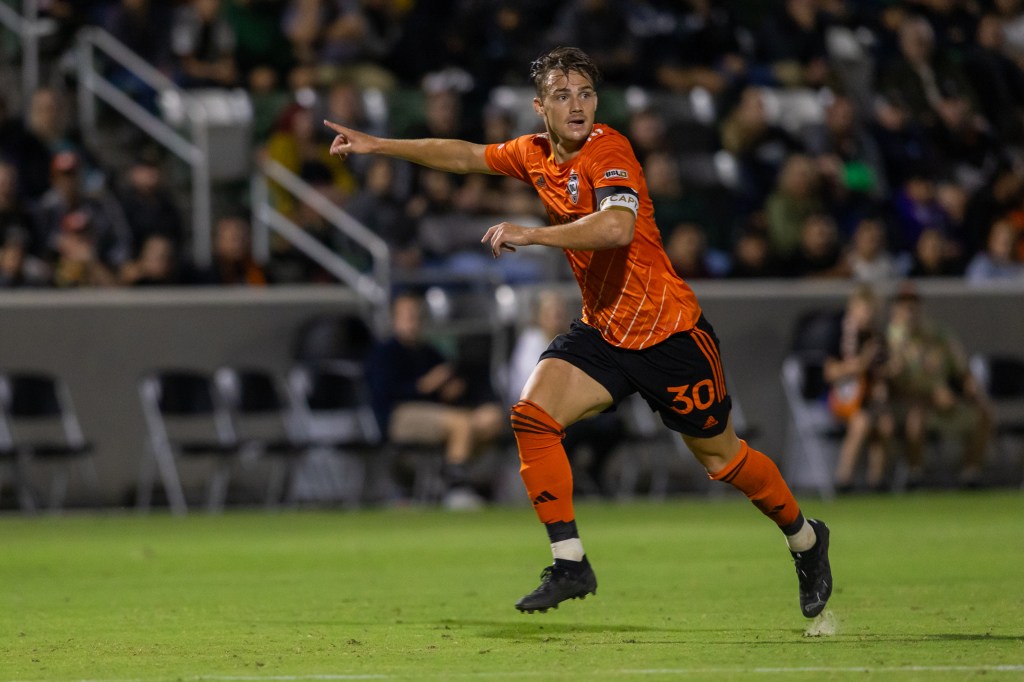 Kickoff: Saturday, September 23 (5:30 PM PST)
Where: Toyota Stadium (San Antonio, TX)
How to Watch: ESPN+, The Official County Line Coalition Watch Party at The Harp Inn in Costa Mesa
Orange County SC heads to the Lone Star State for the third and final time this season to play their first match with reigning USL Champions San Antonio FC at Toyota Field in San Antonio, TX on Saturday, September 23 at 5:30 PM PST. It marks the first of two matches in three weeks between the 2021 and 2022 USL Champions as the race for the playoffs heats up.
SIX POINTS ON THE LINE WITH SAN ANTONIO
San Antonio FC enters Saturday's match in second place in the USL Championship Western Conference. SAFC is formidable on both sides of the ball, leading the conference in goals scored with 54, allowing the second fewest goals against with 32 which provides the hosts with a +22 goal differential, the second highest mark in the West. However, they have struggled to pick up all three points recently, and they are in the midst of a six match winless streak. This streak has not significantly hurt them in the table though, since that winless streak consists of five ties and just one loss. With two matches to be played between these two teams, separated by four points, in just three weeks, both teams will be eager to grab a result and help put some distance between themselves and their fellow playoff hopefuls.
2023 Regular Season Record: 13-5-12 (2nd in USL-C Western Conference)
Goals Scored: 54 | Goals Allowed: 32 | Clean Sheets: 8
Players to Watch
M Jorge Hernandez
F Tani Oluwaseyi
TIME TO REBOUND
Orange County SC's nine match unbeaten streak came to a halt after their 1-0 defeat at the hands of Colorado Springs Switchbacks last Friday. Despite the result, the Black and Orange remained in third place in the Western Conference and well within striking distance of the West's top spots. Especially with two head-to-head matchups with SAFC still to play. Another positive note, the last four times that OCSC has lost, they have responded with a positive result in each match following that loss (3-0-1). They will look to do so again at Toyota Field on Saturday with midfielder Kyle Scott expected to return to the lineup after serving his one game suspension for yellow card accumulation last Friday. Scott's ability to begin the press and act as a deep lying playmaker will look to spark the offense.
Players to Watch
F Thomas Amang
M Kyle Scott
All-time record:
Orange County SC is 4-3-4 all-time against San Antonio FC.
Previous Matchup: 2022 USL Championship
San Antonio FC 2 – 2 Orange County SC (Toyota Field, San Antonio, TX)
Scoring summary: Brian Iloski 25' (OCSC), Ignacio Bailone 43' (SAFC), Michael Orozco 45 +1' (OCSC), Cristian Parano 46' (SAFC)
SECURE YOUR SEAT FOR 2024!
The only way to secure your seat for every Orange County SC home match in 2024 is by becoming a season ticket holder! Becoming a season ticket holder not only guarantees you're getting your tickets at the lowest price, but also comes with special benefits, like access to exclusive season ticket holder events, your own entrance at The Champ, a ticket to one away game of your choice and much more! Deposits for the 2024 season are now open! Place yours today at orangecountysoccer.com/season-tickets.
COME EXPERIENCE AN AWAY DAY WITH THE CLC!
Do you miss watching the match with fellow fans while the Black and Orange are on the road? The County Line Coalition, Orange County SC's Official Supporters Group, will be hosting a watch party at The Harp Inn in Costa Mesa! Come on down and enjoy good food, drinks and an OCSC match day with some fellow fans!
NOTHING LIKE THE CLASSICS
Orange County SC returns home to Championship Stadium at The Great Park in Irvine on Wednesday, October 4th as a part of our California Classic night against Oakland Roots SC. Come experience a classic car show in the parking lot pregame and enjoy an In-N-Out truck at the match all night long! You can get your tickets for this match, here.
JUST TWO REGULAR SEASON HOME MATCHES REMAIN!
There are just TWO regular season home matches left in Orange County SC's 2023 USL Championship regular season! With sellouts on our previous four Saturday home matches, don't miss out on our last two regular season home games and help us pack The Champ! Get your tickets here.